Enjoy Shade When You Need it Most.
Quality installation
10-year warranty
100% Canadian made

Choose from 100s of beautiful fabrics
Manual or motorized operation
REQUEST A FREE CONSULT
Take control of your outdoor living space and enhance the look of your home or business with our high quality retractable awnings made in Canada and designed specifically to suit our unique Canadian climate.
All of our awnings are custom-crafted to suit your specific requirements. We have tailored our awnings to meet the needs of modern home and business owners by providing durable, fully retractable, elegant and functional solutions for your solar control requirements.
All of our awnings feature an industry-leading 10-year warranty (ask one of our experts for more details).
Patio & Deck Awnings
Patio Awnings make outdoor living more enjoyable. Easy to operate and a practical complement to your deck or patio, our awnings are custom-made to harmonize with your home.

Our awnings are the strongest in the industry. Compact frames, mounting bars and stabilizers increase strength without compromising appearance. Unique pitch adjustments allow you to take control of the right amount of shade you want when you need it most.
---
Patio & Deck Awning Comparison Chart
We offer a variety of patio and deck awnings with different options to suit your exact requirements. This comparison chart explains the features and benefits of each style of awning so that you can choose the awning that is right for you.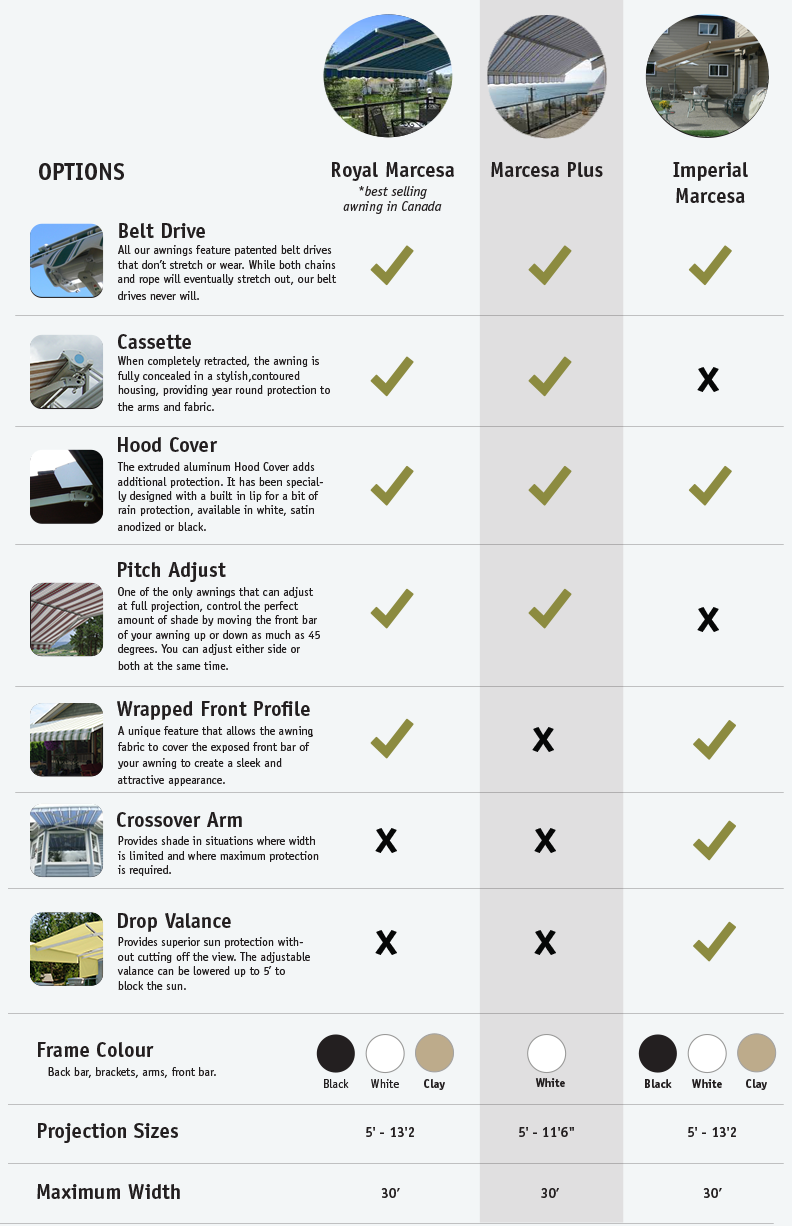 View Photos
get a free consult
Retractable Awnings Provide Cool,
Comfortable Shade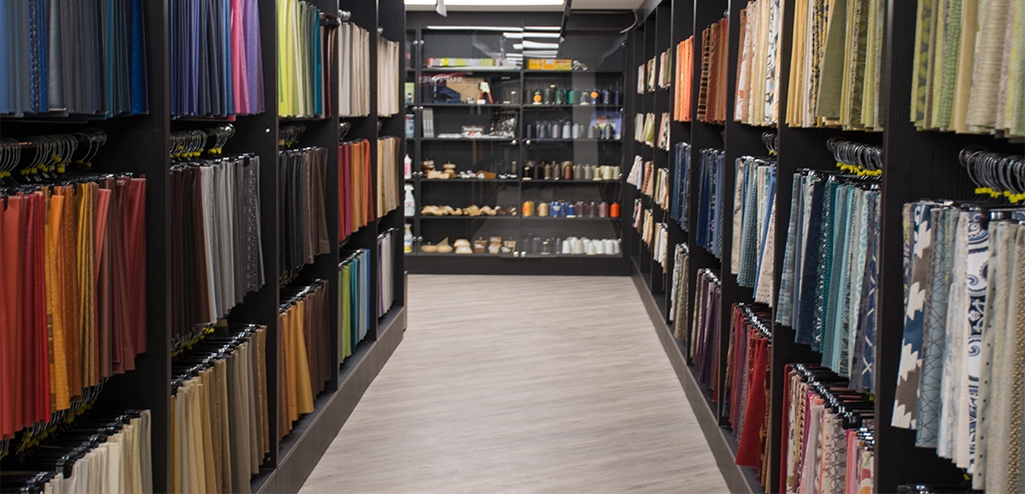 100s of Fabric Choices & Styles

We are one of the only awning companies with our own custom fabric collection. We have sourced out all the highest quality fabrics from around the world to offer to our customers. No matter what type of awning, no matter where it will be placed, we have the ideal fabric for you and your home.
The Marcesa Advantage

All our awnings feature the Marcesa design which includes the addition of a center stabilizing bar. This unique feature adds more headroom at the back and middle of the awning making it more spacious, stronger, and more stable in the wind. With the Marcesa, you won't have to worry about bumping your head!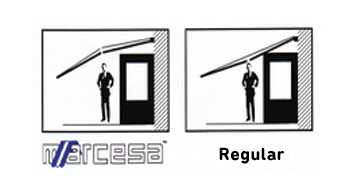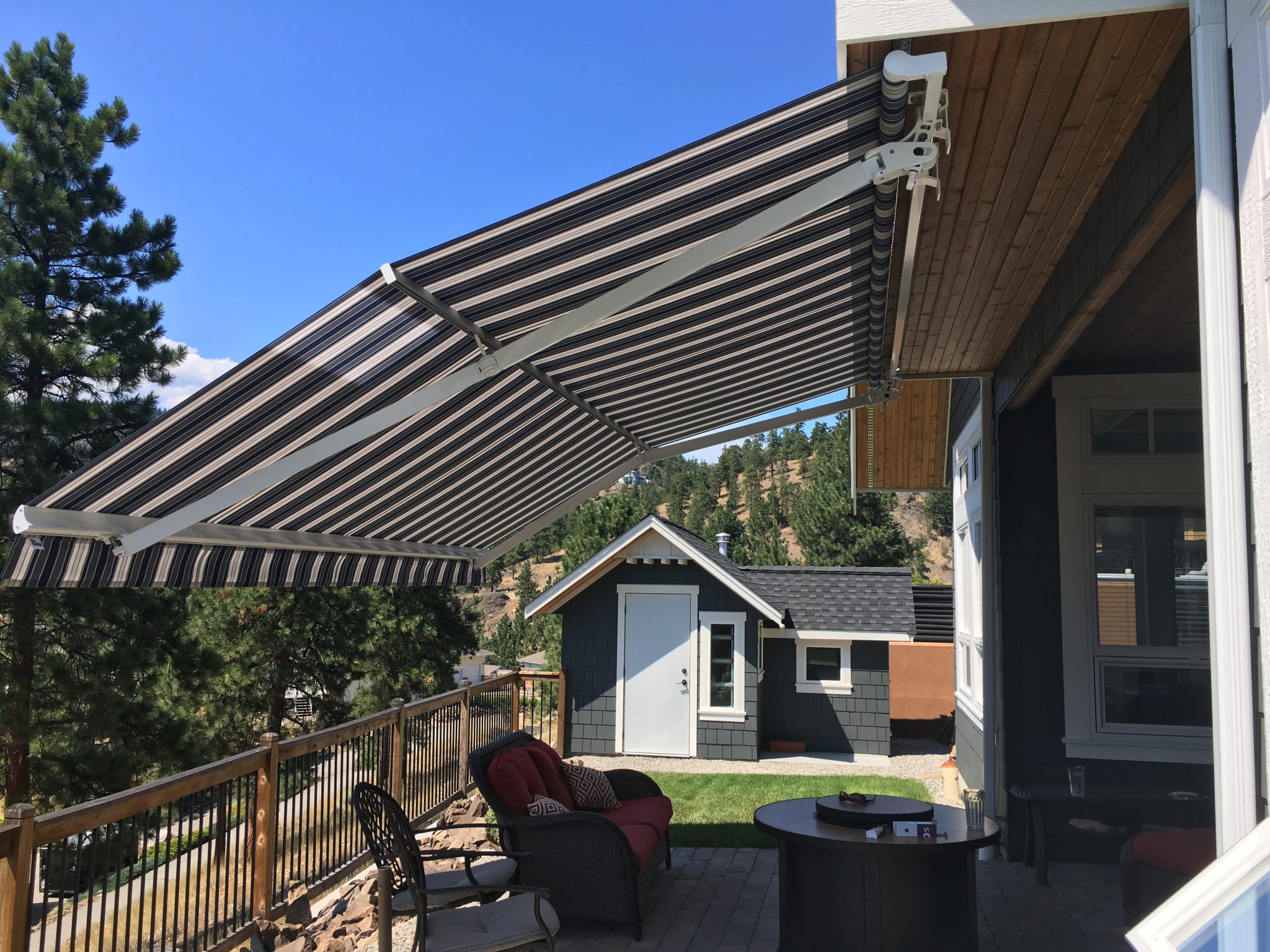 Window Awnings
Window awnings are an attractive way to control the right amount of shade and sunlight entering your home.
All of our window awnings are custom-made, fully adjustable and retractable or fixed. Available in widths from 2' – 30', they can drop down to a full 160˚, fully cover a window if so desired, virtually disappear against the face of the building, and neatly roll up into a self contained housing when not in use. Available in a variety of frame colours and hundreds of beautiful, contemporary fabric colours. They can be operated from inside our outside your home, either manually or motorized.
Your awning will protect you from the heat and glare of sun's harmful UV rays, perform well and look great for many years. All of our awnings are made from corrosion-free materials.
---
VIEW PHOTOS
GET A FREE CONSULT
Pergola Awnings
Pergola awnings make the perfect finishing touch for existing outdoor patio structures. They also help to create a unique addition to your outdoor living space. With the right amount of incline and fitted with a waterproof cover, they not only provide shade, but are also ideal for use in the rain.
Pergola awnings combine horizontal and vertical shading in one system. Each system comes complete with frontal support and provides outstanding stability.
With a number of product solutions to choose from depending on the particular application, desired dimensions and aesthetic appeal, pergola awnings give you a different perspective on shade solutions
---
VIEW PHOTOS
GET A FREE CONSULT
Operation & Controls
Retractable awnings come standard with manual gear operators however, you may wish to motorize your awning or integrate your awning into your home automation system, or include a timer and/or a sun or wind sensor.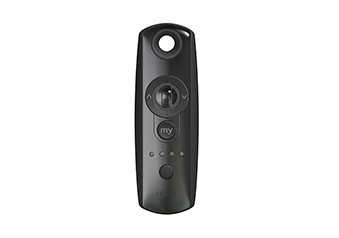 Remote Operation
A radio frequency remote control provides simple and effortless operation of your awning.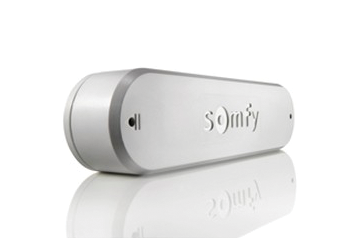 Wind Sensor
Mounted to the front bar of your awning, the Eolis 3D Wirefree RTS sensor will automatically retract your awning when the wind generated movement exceeds the preset threshold.
Manual Operation
All our awnings come strandard with a spherical eye coupling and specially designed manual crank handle which enables operation from almost any angle.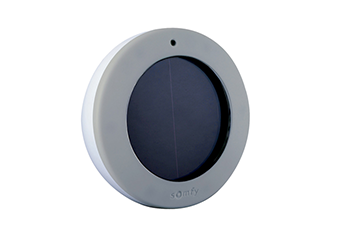 Sun Sensor
Extend and retract your awning automatically when you need shade most. Solar powered and autonomous, our sun sensor requires no wiring or batteries.
Looking For An Awning For Your Business?
Backlit or unlit, we do that too! Click the button below to see our photo gallery of past work or contact us directly for a FREE, NO-OBLIGATION quote.
View Photos
Contact Us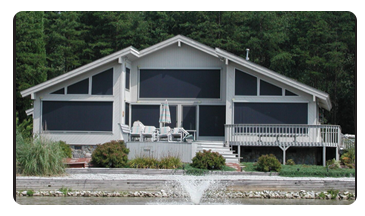 Want Shade & Privacy Without Sacrificing Your View?
Solace Screens are retractable roll screens designed to keep you cool and comfortable that block the sun, not your view. They are manufactured in our Summerland plant.
View Photos
LEARN MORE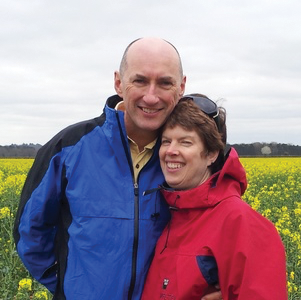 "We love our new retractable awning from Artistic Awning! After enduring many hot summers of not being able to relax comfortably outside, we can finally use our south facing deck to relax and entertain friends in cool shade. This awning was one of the best investments we have made because it is easy to use, the fabric complements the look of our home and provides shade when we need it most."
Lisa and Dave M. – Kelowna, BC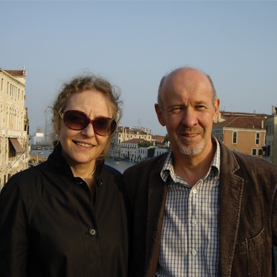 "Our experience with Artistic Awning was first class. All aspects of dealing with Mike and his team, from the informative sales consultation to the fast delivery and installation of our awning were conducted professionally and with great service. We recommend Artistic Awning to anyone that wants a high quality awning and great service from a company that you can trust to do what they say they will do."
Doug and Jennifer F. – Peachland, BC