Solace Retractable Roll Screens

Create your dream outdoor oasis with Solace Retractable Roll Screens.
Manufactured at our Summerland facility,  these premium retractable roll screens offer sunshade, privacy, insect protection, and wind reduction. Designed to suit your exact needs, Solace Retractable Roll Screens are the perfect complement to decks, patios, gazebos, and windows.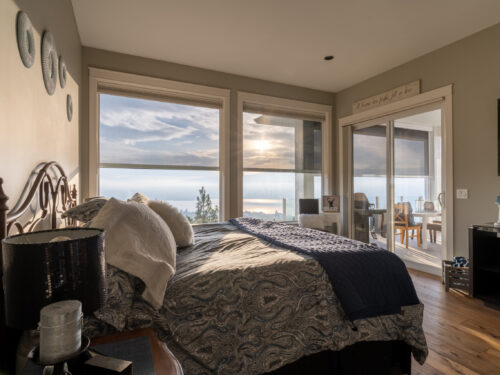 Our retractable window screens maximize your visibility while providing shade and comfort for your family. Ideal for bedrooms, living room and patio windows, we offer a variety of styles, colours and openness to create your perfect shade solution.
Patio Screens & Enclosures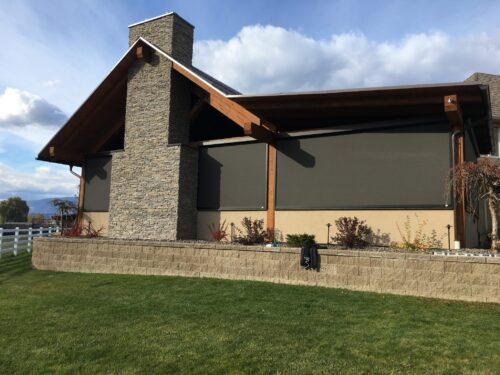 Our retractable patio screens and enclosures bring the outdoors in and allow you to create comfortable and functional 4-season outdoor living space. Let our team help create your ideal space so you can make the most of the Okanagan lifestyle all year.
The Benefits of Solace Retractable Roll Screens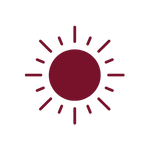 Choose from a variety of screen colours and densities that shade you from the heat and glare of the sun and provide excellent daytime privacy.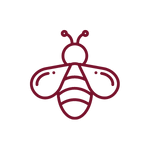 Keep bugs out so that you can simply relax and enjoy your outdoor living space.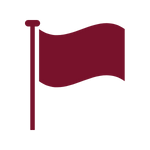 Don't let you or your patio décor get blown away. Protect yourself from the wind and enjoy your patio and deck in comfort.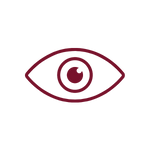 Enjoy shade and comfort without compromising your beautiful Okanagan views.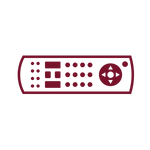 Our screens can be operated manually with a crank rod or a sleek remote control transmitter.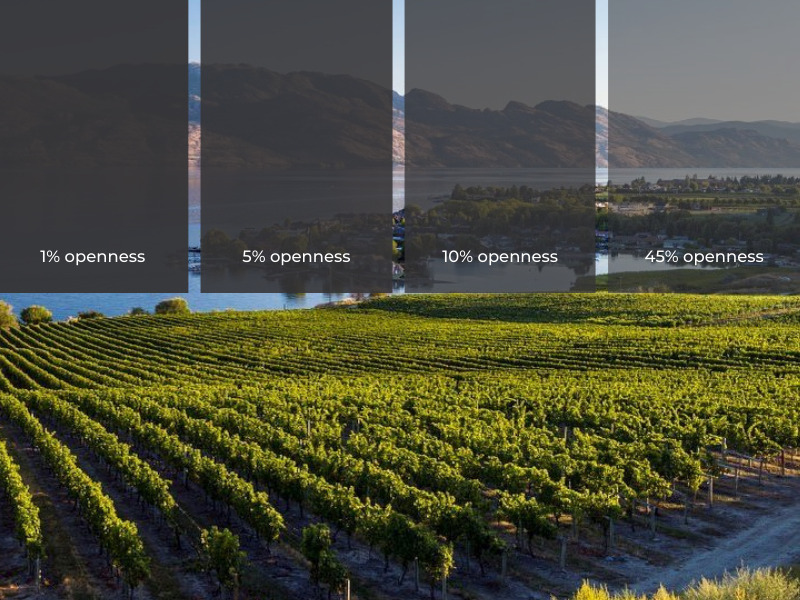 Manage Your View
Solace Roll Screens are available in a variety of colours and weave densities. They are made using fade-resistant, high-quality vinyl-coated fibreglass fabrics designed to absorb and reflect the heat and glare of the sun.
We offer a wide variety of colours and four different weave densities (1%,5%, 10%, and 45%) so that you can choose the one that provides the perfect amount of shade and visibility.
Custom Colours
Solace Roll Screens are custom powder coated to harmonize with your property. Choose the colour that suits your style and we will match it with our high-quality scratch-resistant finishes that are meet your exact requirements.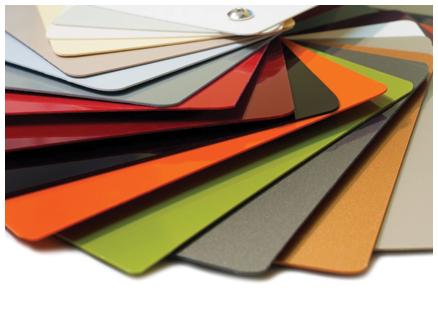 Trademarked Bottom Bar Options
We offer adjustable, regular and extreme bottom bar options, depending on your needs. This innovative, patent-pending system allows us to adjust for the slope of your deck to ensure a gap-free seal to protect against the elements.
Our patented Adjustable Bottom Bar is the solution for your sloped patio. It helps the screen sit flat, closes off gaps, and ensures complete coverage for your home. The Adjustable Bottom Bar automatically adjusts to the slope and returns to level when retracted.

Innovative Design
Solace Roll Screens are designed to look great and perform well in all climates. Our unique retension system is designed to secure the screen on all four sides to eliminate light gaps, prevent insects from entering, and guide it smoothly in the guide rails.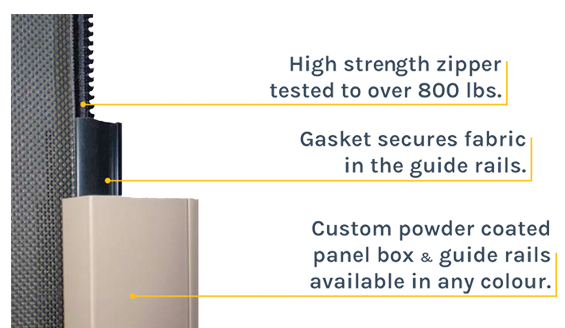 Solace Screens come standard with manual gear operators however, you may wish to motorize your screen, integrate your screen into your home automation system, or include a timer and/or a sun or wind sensor.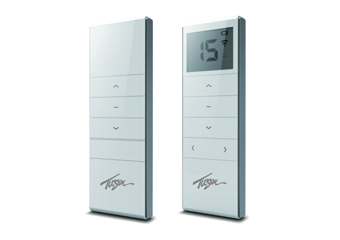 Our screens are powered by high quality, reliable motors. A radio frequency remote control provides simple and effortless operation of your screen. Can be mounted on the wall as well.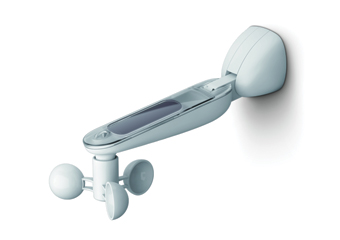 Raise or lower your screen automatically when you need shade most. Our sun and wind sensor requires no wiring or batteries and will automatically retract your awning when the wind is too strong.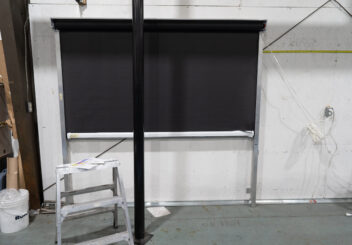 All motorized units comes with the LiTouch Safety Drive. The LiTouch Safety Drive operates with all Solace Signature Series Motors allowing screens to travel down without concern for obstacles or resistance. This specialized system will wait if resistance is encountered and continue down when free.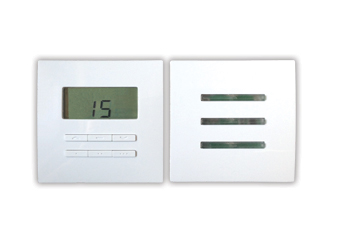 Square Handheld Radio Remote
Operate your screens through walls and floors inside or out. A magnetic wall-mounted base provides you with a convenient place to store your remote.
All remotes are available with 15-channel or single-channel control. 15-channel control allows you to operate 15 different screens, or 15 groups of screens. This option still includes a master channel to operate everything programmed simultaneously. Single-channel control allows you to operate only one screen or only one group of screens.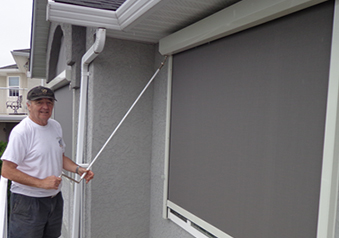 You have the option of manual or motorized operation for your screens depending on the size required. All manual operation units use either a 1:5 gear or 1:8 gear, this enables Solace to manufacture larger manual-sized screens than others. 
Solace Roll Screens can be easily operated from either inside or outside with a specifically designed manual crank handle that enables operation from almost any angle.
Ready to Make the Most of Your Outdoor Living Space? 
More Custom Artistic Awning Solutions

Interested in Becoming A Solace Roll Screens Dealer?
After 25 years as a dealer, selling and installing thousands of roll screens, we realized that there was an opportunity to build a more reliable, easier to install, and longer-lasting roll screen.
Become a Solace Screens Dealer and you will have access to more sales opportunities, save time on installations, and ultimately make more money with Solace Roll Screens.