Make the Most of Your Outdoor Oasis
with a Custom Awning
Take control of your outdoor living space and enhance the look of your home or business with our high-quality retractable awnings made in Canada and designed specifically to suit our unique Canadian climate.
All of our awnings are custom-crafted to suit your specific requirements. We have tailored our awnings to meet the needs of modern home and business owners by providing durable, fully retractable, elegant and functional solutions for your solar control requirements.
All of our awnings feature an industry-leading 10-year warranty. Contact us today to learn more.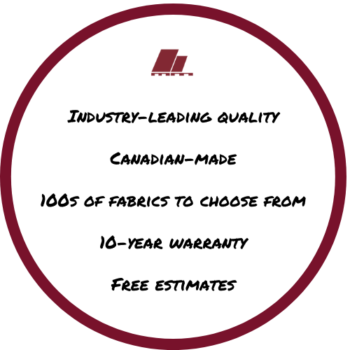 Retractable Patio & Deck Awnings

The Marcesa Advantage
Our awnings are the strongest in the industry. Compact frames, mounting bars and stabilizers increase strength without compromising appearance. Unique pitch adjustments allow you to take control of the right amount of shade you want when you need it most. All our awnings feature the Marcesa design, which includes a unique center stabilizing bar. This exclusive feature, trade marked by Aristocrat Shade Products, adds more headroom at the back and middle of the awning making it more spacious, stronger, and more stable in the wind.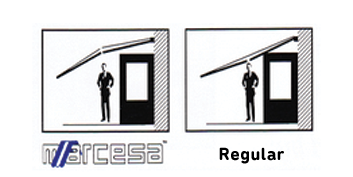 Patio & Deck Awning Comparison Chart
We offer a variety of patio and deck awnings with different options to suit your exact requirements. Not sure which awning to choose? The comparison chart below explains the features and benefits of each style so that you can decide what awning is right for you.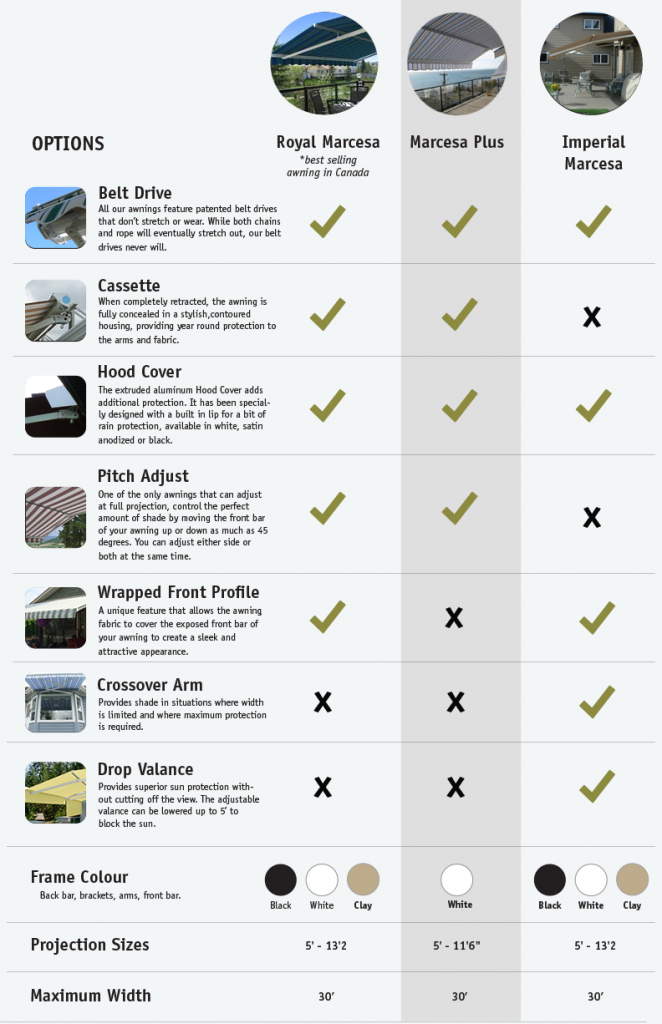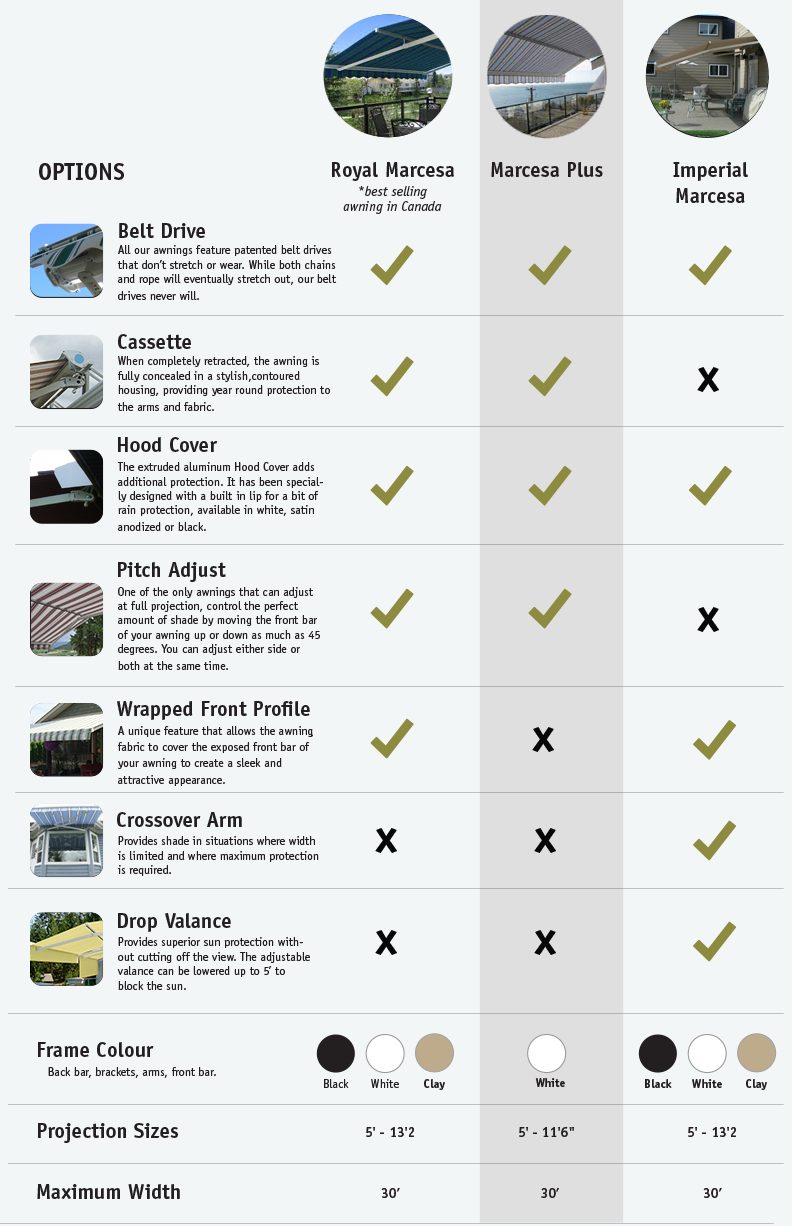 Customize Your Awning to Suit Your Space
We are one of the only awning companies with our own custom fabric collection. We have sourced out all the highest quality fabrics from around the world to offer to our customers. No matter what type of awning, no matter where it will be placed, we have the ideal fabric for you and your home. Not sure where to start, click below to see a few of our options online.

All of our window awnings are custom-made, fully adjustable and retractable or fixed.
Our Grand Vienna & Barons are available in widths from 5' to 30' to suit any space. With the ability to drop down to a full 160˚, our awnings are able to fully cover a window if so desired and then virtually disappear against the face of the building when not in use.  Available in a variety of frame colours and hundreds of beautiful, contemporary fabric colours, they can also be operated from inside or outside your home, either manually or motorized.
Almost any building has the potential to be a show-stopper given the right accessories. Canopy awnings offer an unlimited amount of styles available.  From our classic 3 point traditional style, to the most complicated entrance quarter-barrel, we have an awning to fit your needs.
Our canopy awnings are made of extruded satin anodized aluminum and will not rust like steel or oxidize like mill-finished aluminum. Each unit is custom-crafted and most styles can be made retractable.
Over 300 poly-acrylic fabrics and colours are available, either acrylic, or vinyl and are long-lasting, water repellent and completely colourfast. Using stainless steel staples, fabrics are fastened to the frame and covered with a UV-resistant decorator strip.
Many of our basket and canopy awnings have been designed to work in both residential and commercial environments alike. Canopy awnings are designed with the function to provide outstanding protection and beauty, with the ability to withstand the rigours of today's climate.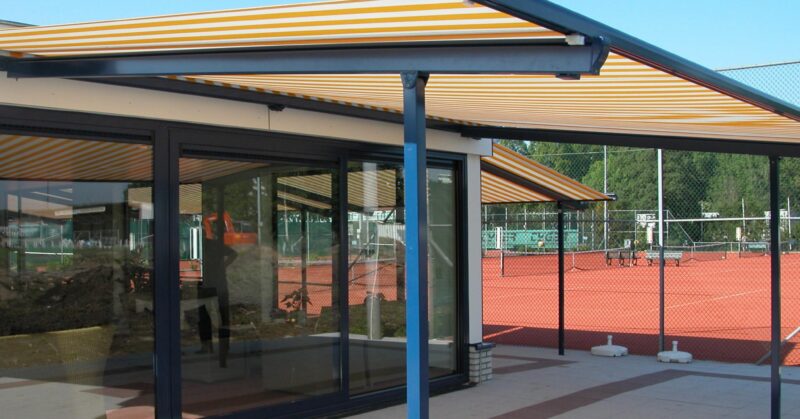 Pergola awnings make the perfect finishing touch for existing outdoor patio structures. They also help to create a unique addition to your outdoor living space. With the right amount of incline and fitted with a waterproof cover, they not only provide shade but are also ideal for use in the rain.
Pergola awnings combine horizontal shading in one system. Each system comes complete with frontal support and provides outstanding stability.
With a number of product solutions to choose from depending on the particular application, desired dimensions and aesthetic appeal, pergola awnings give you a different perspective on shade solutions